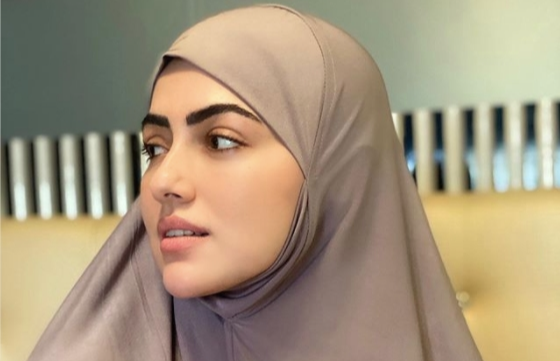 Dr Muhammad Raziul Islam Nadvi
Bollywood actress and popular Big Boss 6 contestant – Sana Khan's announcement to bid adieu to the film industry has gladdened many like me. The fame, wealth, glitz and glamour of the film industry do not permit one to introspect and think deeply. Given such a scenario, if one says farewell to the world of fame and glamor and announces to henceforth live a life of piety, purity and virtue, then one feels like saluting that resolve and determination.
Sana Khan has written a long note on her social media accounts in Urdu, Hindi, and English, in which she has expressed her pure feelings. She has written: "Should humans not think that death may come at any point and what would be their fate after death? I searched for answers to these questions in my religion and I found that the purpose of this life is to make our after-life better. And the after-life will be good if a person follows her life as per the rules of the Creator. One does not make fame and wealth the basis of one's life. One moves away from a sinful lifestyle to the one that serves humanity and follows the rules of one's Creator. Therefore, I announce that I will quit showbiz (film industry) and will serve humanity. I will follow the rules as specified by my Creator."
Sana further wrote – " I request my brothers and sisters to pray for me and hope that Allah will accept my prayer and my repentance. Similarly, may Allah give me the grace to lead my life according to the will of my Creator and in the service of humanity and help me sustain this perseverance."
In the end, she wrote: "All brothers and sisters are requested not to consult me regarding any showbiz work."
To err is human and the door of repentance remains open until the last breath of life.
The Messenger of Allah (peace and blessings of Allah be upon him) said: " Indeed Allah accepts the repentance of a slave as long as his soul does not reach his throat." (at- Tirmizi: 3537, Ibn Majah: 2253).
Every human is prone to sin. One is bound to commit errors, transgressions and wrongdoings. But, "tauba" (repentance) wipes them away.
The Prophet of Allah (peace and blessings of Allah be upon him) said: "'The one who repents from sin is like one who did not sin." (Ibn Majah:4250)
From the Hadith, we come to know that Allah is very happy when His slave repents and returns to his Lord. Allah also turns to him/her and covers His slave with His Grace and Mercy. In this context one of Allah's qualities as "Tawwab" is mentioned.
Daughter Sana Khan! Your move (to quit showbiz) is highly appreciated. Congratulations on your repentance. May Allah grant you perseverance, help you to live a pure life, and spend life in the service of humanity. Aamin !
The author is a noted Islamic scholar and Secretary department of Islamic Society at Jamaat Islami Hind. The views and opinions in this article belong to the author and do not necessarily reflect the editorial policy of Millat Times.