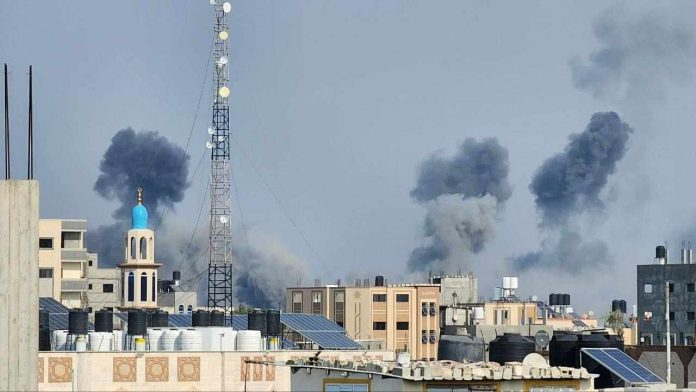 Death toll continues to rise as relentless Israeli air strikes unabated. According to Palestinian ministry of health, 413 Palestinians fatalities reported including 78 children and 41 women, meaning the total death toll is now a1,070 and in addition to more 2,300 wounded in the Gaza Strip as a result of the occupation's aggression.
Gaza is an enclave under blockade from all fronts by occupation forces. It is 41km (25 miles) long and 10km wide and bounded by the Mediterranean Sea, Israel occupier and Egypt. Gaza is home to about two million Palestinians, a small self-governing Palestinian territory that came under Israeli occupation, along with the West Bank and East Jerusalem, after the 1967 Arab-Israeli War. Gaza strip is under the control of the militant Islamist group Hamas. Gaza was part of historic Palestine before the state of Israel was created in 1948 in a violent process of ethnic cleansing, expelling hundreds of thousands of Palestinians from their homes.
Turkish President Tayyip Erdogan said that Turkey was determined to ramp up diplomatic efforts to achieve calm in the fighting between Israeli and Palestinian forces, but added that a two-state solution was the only way to achieve regional peace. Speaking in Istanbul, Erdogan said the Israeli-Palestinian conflict was at the centre of most conflicts and issues in the Middle East, and added it was now a necessity to establish an independent Palestinian state with Jerusalem as its capital.
The US will be moving a carrier strike group closer to Israel, which includes the Ford carrier and ships that support it, US Defense Secretary Lloyd Austin says.
Austin also adds that the United States will provide munitions to Israel, and that its security assistance will begin moving. The Pentagon will also be adding fighter jets in the region as quoted by Al Jazeera.