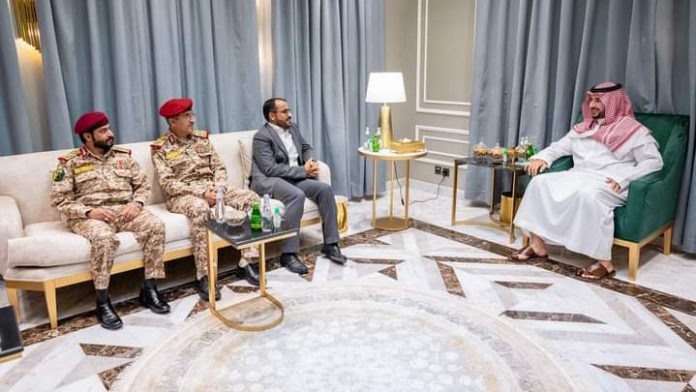 The Saudi Foreign Ministry in a statement welcomed the positive results of the serious discussions regarding reaching a road map to support the peace path in Yemen.
"The kingdom continues to stand with Yemen and its brotherly people and encourages the Yemeni parties to sit at the negotiating table to reach a comprehensive and lasting political solution in Yemen under the supervision of the United Nations," the statement read.
The Saudi Foreign Ministry also commended the substance of the meeting between Prince Khalid bin Salman, Minister of Defense, and the Sanaa delegation during their visit to the Kingdom. The Kingdom underscored its unwavering commitment to promoting dialogue among Yemeni factions with the ultimate aim of achieving a comprehensive and lasting political resolution under the auspices of the United Nations.
The five days of talks, which represented the highest-level, public negotiations with the Houthis in the kingdom, come as Saudi Arabia tries a renewed bid to end the years long coalition war it launched on Yemen.
This solution seeks to guide Yemen toward a period of comprehensive development and sustainable growth for its populace. It also seeks to establish enduring political stability and security that aligns with the developmental advancement of the Gulf Cooperation Council (GCC) system.
"I emphasized the Kingdom's support for Yemen and reaffirmed our commitment to promoting dialogue among all parties to reach a comprehensive political solution under UN supervision," Prince Khalid bin Salman said in a post on social media platform X (previously known as Twitter).
"We look forward to the success of these critical discussions, hoping that Yemeni parties will unite to achieve sustainable development, political stability, and lasting security, enabling Yemen to integrate into the progress and development witnessed within the GCC", he added.
Houthi envoys left Riyadh on Tuesday after a five-day round of talks with Saudi officials on a potential agreement paving the way to an end to the eight-year-old conflict in Yemen, sources familiar with the meeting and Houthi media said.
The first official round of the Oman-mediated consultations between Riyadh and Sanaa, which are running in parallel to UN peace efforts, was held in April when Saudi envoys visited Sanaa.
On 26 March 2015, Saudi Arabia, leading a coalition of nine countries from West Asia and North Africa, launched an intervention in Yemen following a request from Yemeni president Abdrabbuh Mansur Hadi for military support after his forces were ousted from Sanaʽa by Houthi insurgents during the Yemeni Civil War.