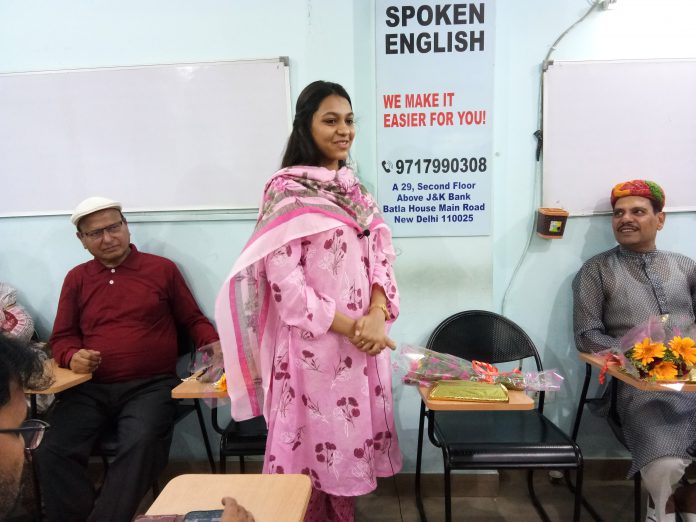 By Manzar Imam
New Delhi: Forum for Intellectual Discourse arranged a reception to welcome Ms Stuti Agarwal, who has secured 95 percent marks in Urdu in Madhya Pradesh Board of Secondary Education examination, being among the subject toppers in the State, inspiring those who take Urdu as a subject. The programme was held on Sunday 8 May, 2022 at Dynamic English, Batla House, Jamia Nagar, New Delhi.
In an effortless chaste Urdu Stuti said, "I had left convent because there was no Urdu." Prof Tasneem Fatma had told me, "If you wish to study Urdu, study it so passionately that one day you become like Gopi Chand Narang." Reading Urdu is not enough, reading it to the extent that you can make a career out of it is important. She expressed gratitude to her teacher Saifi Sironji, her parents, especially her mother for providing a congenial atmosphere at home for her success. It should be noted that the young Stuti is deputy editor of Urdu monthly Aalami Zaban and is also on a senior editorial position at Intisab, a prestigious quarterly Urdu magazine published from Sironj, Madhya Pradesh for 40 years. Stuti's father, Mr Anil Agarwal, a passionate lover of Urdu and advocate of communal harmony, who was present at the reception, has wholeheartedly supported his daughter in pursuit of her dream. There were several rounds of applause for the father-daughter duo.
Commending Stuti for her achievement in his presidential remarks, journalist Suhail Anjum, also warned her about the perils of fame and suggested to continue to work hard so that she could contribute to society in more meaningful ways. Taking exception to those persistently trying to prove Urdu to be the exclusive language of Muslims, he said that Urdu was the language of all Indians. Anjum expressed shock at the increasing negligence of Urdu by Muslims themselves.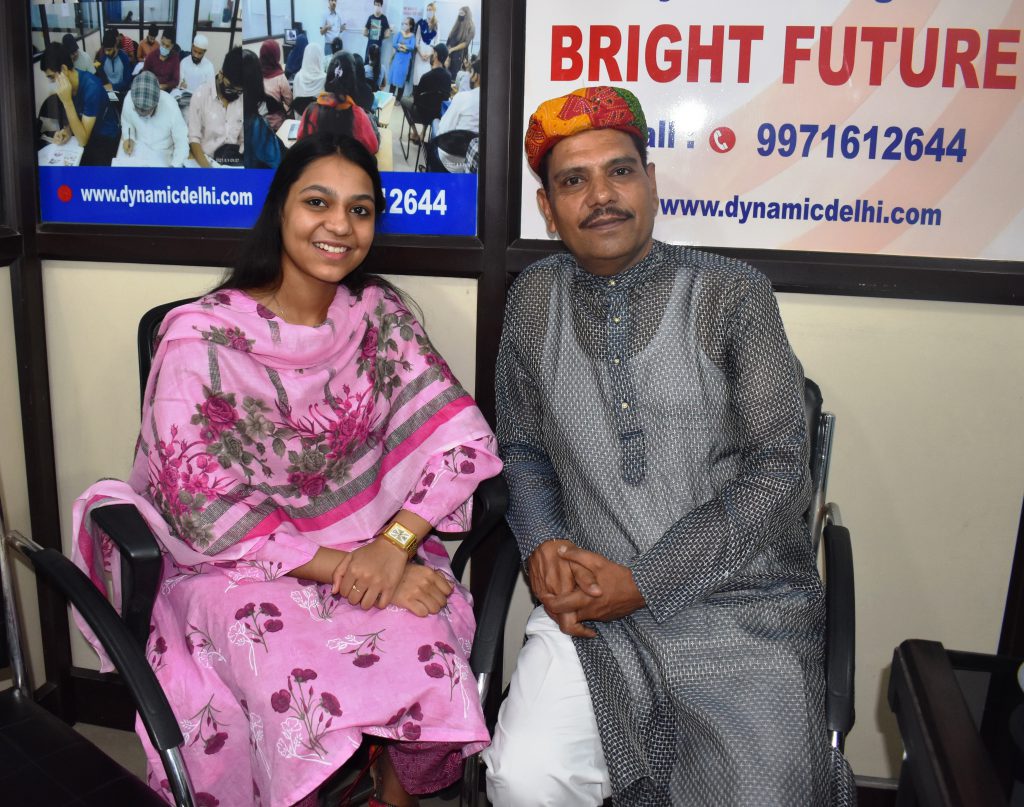 Prof Tasneem Fatma, an eminent scientist and former Pro Vice-Chancellor of Jamia Millia Islamia (JMI), said, "No matter which subject you choose, you must gain depth and distinction in it." Whichever position you take, take it with confidence and dignity. Deliver so well that you become a need. She congratulated Stuti for her excellent performance in the subject of her choice. Prof Fatma also recited some Sanskrit shlokas to bring home the point that one can learn a lot from different languages. But, one must master them.
Prof Khalid Mahmood, former Head, Department of Urdu, JMI expressed pleasure over Stuti's remarkable achievements at such a young age and wished her further success. Buoyed by the success of his student, Saifi Sironji, poet, author and editor of Intisab and the winner of the 26th Doha Qatar Farogh-e-Urdu Adab Award-2022 said, "A good teacher is one who ignites new dreams in his students." He emphasised the need for reading books for depth and insight.
Poet and famous compère of mushairas, Dr Moin Shadab applauded Stuti's father Mr Anil Agarwal for encouraging his daughter to follow her heart which resulted into her outstanding performance in the board examination. Meanwhile, Shadab lamented the "inexorable misuse of Urdu words and expressions" by none other than Urdu journalists. Dr Salman Faisal raised a critical point stating that many people so proudly speak about their forefathers knowing Urdu, but they hardly speak about their own children knowing the language. 
مدھیہ پردیش میں اُردو زبان سے 95 فیصد لا کر ٹاپ کرنے والی Stuit Agarwal سے @Millat_Times کے صحافی @Shayan_Ash کی خاص بات چیت۔
سنئے اُردو کے بارے میں کیا کہا اور انہوں نے اُردو زبان کیوں سیکھا،
لنک پر کلک کرکے مکمل انٹرویو سنیںhttps://t.co/ruuTLk3d1L pic.twitter.com/n6L6MYiGlp

— Millat Times اردو (@MillatUrdu) May 11, 2022
Manzar Imam, general secretary, Forum for Intellectual Discourse, welcomed the guests and participants. Dr Khalid Mubashshir, Assistant Professor, JMI coordinated the programme and Forum's secretary Ammar Jami presented the vote of thanks.
Dr Anwarul Haque of The Wings Foundation, Dr Mohammad Ajmal, Assistant Professor at JNU, Dr Adil Hayat, Dr Naushad Manzar of adbimiras.com, Dr Faizan Shahid, Dr Faizullah Khan, Dr Imtiyaz Ahmad Alimi and others shared their views. Abdul Bari Qasmi, Dr Mohammad Arif, Dr Qurratulain Tabish, Ahmad Ali, Abrar Ahmad, Abdur Rahman, Jamil Sarwar and a number of research scholars, students and media persons attended the event.