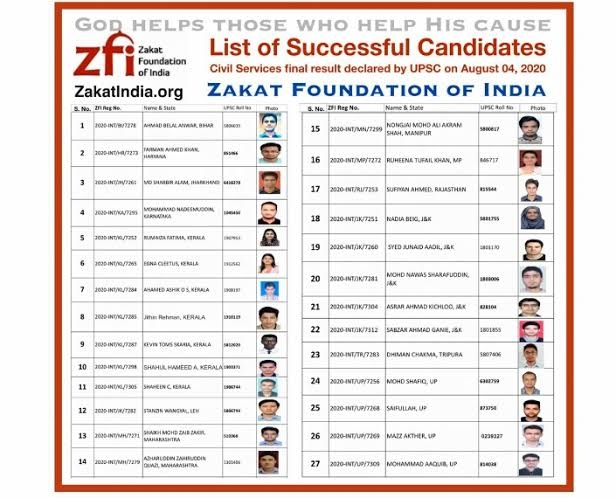 By M. Burhanuddin Qasmi
It is easier to preach than practice or it is easier said than done, as the popular English idiom goes, I am following the same here. The Union Public Service Commission (UPSC) result in India for 2019 batch is out today on 4 August 2020.
Out of total 829 passed, 42 are Muslims, that's 5.1 percent only. This is better than previous year, in 2018 out of total 759 passed, only 28, that's 3.7 percent, were Muslims. However, this result is below 2017, when out of total 990 passed, 52, that's 5.3 percent were Muslims.
With the UPSC Result 2019 in hands, some Muslim academia are optimistic that there is a gradual improvement, thanks to a few community managed IAS Coaching centers in Delhi. On the other hand, some others are skeptical. They directly or indirectly blame prejudice and bias during the Main Viva for the proportionately less number of Muslims in the UPSC merit list comparing to their population ratio in India.
I find the latter argument a mere blame-game tactics and running away from the hard facts. For our own lack of performance or failures blaming a third party, itself, is a sign of extreme mental weakness. This will neither take us anywhere better nor cause desired benefits ever.
This is human world where stronger pushes the weak backwards to remain strong and ahead in the race. However, whenever or wherever, a weak puts extra efforts and takes the lead, he becomes the trendsetter and others, willingly or unwillingly, follow him to remain under the limelight.
Adaptability with the environment, required timely action and steady growth are the natural laws of survival in this universe.
This year reportedly about 8 lakh candidates had applied for UPSC CSE (Prelims) 2019.
11845 candidates got selection for Civil Services Main Exam and a total of 829 candidates have been recommended for various posts of IAS, IPS, IRS, IFS etc. – they are the ultimate winners.
The focus must remain on your own strength with the knowledge of your counterpart in every game of life. Muslims need to ask themselves, how many Muslim candidates were there as aspirants of UPSC in 2019? How many of them cleared Prelims and Main (written) and how many of them faced the final round of Test (Viva) to put their names in the national merit list of 829?
I don't have accurate statistics of year-wise Muslim aspirants, however, for last more than one decade, I have been following the UPSC result as a journalist. My understanding is that Muslims are not proportionately appearing for UPSC as per their population ratio. I doubt there were 1.20 lakh aspirants out of 8 lakh in the UPSC CSE (Prelims) 2019, considering 15 percent Muslim population in India. By this pattern, more or less, 1777 Muslim candidates would get selection for UPSC Main to ensure approximately 124 candidates in the final merit list.
If, for instance, one lakh plus Muslim applicants were there in the first hand in 2019 and 1500 plus had appeared for Main and still Muslims in the merit list were less than one hundred then this would have been a serious issue to discuss, introspect and even cast doubt on the transparency of the evaluation system in UPSC or prejudice during Viva. Otherwise, Muslim intellectuals and academia should first throw their full weight to put the required number of candidates from their community in the applicant list and skill them for the arena. To win a race is to keep extra energy and skill in you, is yet another common theory in this competitive world.
Opening a door of shifting responsibility, playing around it and to remain engaged in blame-games is nothing but negativity which benefits none. Resting on lame excuses and finding faults in others are but unwise behaviors which invite negative outcomes only.
————————————-
The author is Mumbai based scholar and Editor of Eastern Crescent.