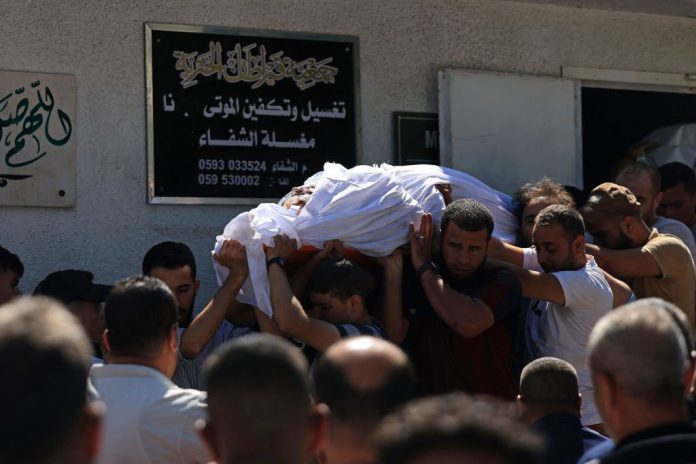 More than 200 Palestinians have been killed and 1,600 people also wounded in air attacks carried out by the occupier Israel after militants in the Gaza Strip launched an unprecedented infiltration against Israel that killed at least 40 people. The Hamas militant group ruling Gaza strip, world's largest open air prison said that the beginning of a new operation is in response to the desecration of Al-Aqsa Mosque and increased settler violence.
The outbreak of conflict follows months of surging violence in the Israeli-Palestinian conflict, with fatalities in the occupied West Bank hitting a scale not seen in years.
The leader of Hamas' military wing, Mohammed Deif, announced the beginning of what he called "Operation Al-Aqsa Storm." "Enough is enough," he said in the recorded message, as he called on Palestinians to join the fight. He said Hamas had fired over 5,000 rockets into Israel.
In a statement, Saleh Al Arouri, deputy head of Hamas' political bureau: "The Palestinian resistance and the Al-Qassam Brigades will not remain silent in the face of the desecration of our sacred sites. We will not accept the continuation of the siege on Gaza or the ongoing detention of our prisoners in Israeli prisons."
"We are at war," Israeli Prime Minister Benjamin Netanyahu said in a televised address, declaring a mass army mobilization.
In Gaza, people rushed to buy supplies in anticipation of days of conflict ahead. Some evacuated their homes and headed for shelters.
"We are afraid," said Amal Abu Daqqa, a Palestinian woman living in Khan Younis, in the besieged Gaza Strip.
One woman, who was buying canned goods, said, "There may be another invasion," referring to the wide-scale raid by Israeli troops (dubbed Operation Defensive Shield) in 2002, which left much of the West Bank destroyed as quoted by Al Jazeera.
Kuwait expressed its "grave concern" over developments between Israel and the Palestinians, blaming Israel for what it called its "blatant attacks". The foreign ministry in a statement called on the international community to "stop the provocative practices by the occupation" and the "policy of expanding settlements".
A senior adviser to Iran's supreme leader Ayatollah Ali Khamenei expressed support for an attack Hamas launched against Israel on Saturday, calling it a "proud operation". "We support the proud operation of Al-Aqsa Flood," Yahya Rahim Safavi said at a meeting held in support of Palestinian children in Tehran, quoted by ISNA news agency.
Palestinian people have the right to defend themselves: Palestinian President Abbas
Palestinian President Mahmoud Abbas said on Saturday that the Palestinian people have the right to defend themselves against the "terror of settlers and occupation troops", the official news agency WAFA quoted him as saying.
He spoke at an emergency meeting held in Ramallah with a number of top officials from the Palestinian Authority.
Turkey's Erdogan calls on Israelis, Palestinians to act with restraint
Turkish President Tayyip Erdogan on Saturday called on Israelis and Palestinians to act with restraint and refrain from hostile acts that could exacerbate the situation.
"We call for restraint from all parties," Erdogan said at a congress for his ruling AK Party in Ankara. "They must refrain from aggressive acts," he said.
Qatar says Israel is responsible for escalation, calls for restraint
Qatar's foreign ministry issued a statement on Saturday saying that Israel alone was responsible for the ongoing escalation of violence with the Palestinian people.
It said Qatar calls on both sides to exercise utmost restraint and calls on the international community to prevent Israel from using these events as an excuse to launch a disproportionate war against Palestinian civilians in Gaza.